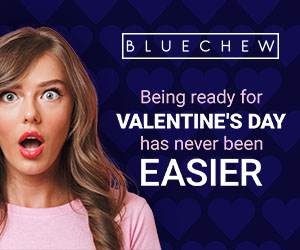 We've been partnering with Bluechew for one year, and 140 Young Couples Party men have subscribed! That's been incredibly valuable to the men who subscribe, the ladies of YCP, and our events in general.
Bluechew is a generic version of either Cialis or Viagra (you choose). It's a Chicago based company, and they handle everything in-house. You fill out an online health questionnaire and then have a quick video chat with a physician. Once approved, the medication is shipped to your house each month. It only costs about $20 per month, and your first month is free.
We are incredibly loyal to Bluechew and have promoted the product hard because of their trust in us. Most companies refuse to work with events like ours. Over the past couple of years, we've been dropped by email companies, screen printers, two banks, and rejected by countless affiliate partners.
I'm firmly in the "bubble," whereby all my friends are in the lifestyle, and swinging seems normal and moral to me. However, many corporations refuse to do business with people like you and me. For example, one of Bluechew's well-known competitors, "Roman," rejected our application because we are a "lifestyle" company.
We've been insulted and rejected so many times that when a company like Bluechew enthusiastically wishes to work with us, we want them to win financially. If even 2/3 of those 140 subscribers are still with Bluechew, they are grossing around $2500 per month from our promotion. That makes us proud.
Financially, it's been huge for YCP as well. 2019 was the first year in the four years of running YCP that the events did not lose money.
Most importantly, however, Bluechew has improved the flow of our events.
The men at our party are young. So when the pressure of a party suddenly rips away their invincibility, it can begin a swirl of confusion and embarrassment that quickly spins itself into anger.
When we see two couples enter a playroom and one pair leaves in conflict a short time later, we already know what happened. His cock didn't work, and the embarrassment turned to anger. She's upset not because of his inability to perform, but because of the way he's reacting to it. It used to happen frequently but rarely happens anymore.
One of the most surprising things when we started promoting Bluechew, were the comments from women. Dozens of women in the YCP Facebook group began to open up about what a man's inability to perform does to their ego. Some women had as many as ten men in a row have difficulty, which can erode even the most confident woman's self-esteem.
If you're currently not using any ED medication at events, you should. It's a fantastic performance booster.
If you're using anything other than Bluechew, make the switch. Bluechew is financially supporting your favorite event, and what you're currently using would not. Plus, Bluechew is based right here in Chicago.
If you have any questions about Bluechew, you can reach out to us in the "contact us" portion of the website.
When you're ready, click the banner ad and get started. Be sure to use coupon code YCP at checkout to receive your first month free. If you don't like Bluechew, you can cancel at any time.